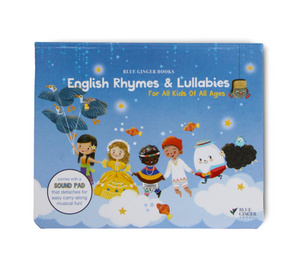 This picture book comes with a musical sound pad designed to be easily detachable for kids to bring their music wherever they go. Press the buttons on the sound panel of this charming book to hear twelve much loved nursery rhyme songs and lullabies!
❤️  SUPPORTS EARLY LEARNING & EDUCATION.
Each richly illustrated scene shows a different cultural setting that will fascinate all children. Every song also comes with a question in both the book and the sound pad. Does rain have a smell? What's the biggest fish in the ocean? Read or listen to the fascinating answers and expand your knowledge!
include - 1. One Two Three Four Five; 2. Row, Row, Row Your Boat; 3. Lavender's Blue; 4. Incy Wincy Spider; 5. Rain, Rain, Go Away; 6. Are You Sleeping?; 7. Hickory Dickory Dock; 8. The Muffin Man; 9. Humpty Dumpty; 10. Twinkle Twinkle Little Star; 11. Baa Baa Black Sheep; 12. Rock-A-Bye Baby
If you are looking for baby gifts or children's gifts, this is a perfect option!