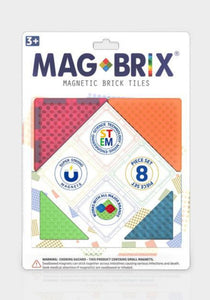 MAGBRIX® opens the doors to unlimited creations and the opportunity to combine  Magnetic tiles and Lego®/Duplo® or any other brick brands. It's the perfect addition to your magnetic tile playset, encouraging creativity while also further experimenting and advancing STEM skills.
Included in the pack: 8 MAGBRIX tiles 
MAGBRIX magnetic tiles are made with 100% safe ABS plastic, food-grade non-toxic material that is BPA and phthalate-free. MAGBRIX tiles are compatible with other brands of magnetic tiles and building blocks.
MAGBRIX® design is an original idea by JC Ingenium®.